Do you have a load taller than the standard 8'6″ height shipment? Pahoa Express has one of the largest fleets of double drop conestogas that can accommodate shipments up to 11'10″ height and 40,000 pounds.
Pahoa Express sets the standard for quality. No empty promises! Serving United States and Canada since 1985, Pahoa has the right equipment to fit your needs. We specialize in the Automotive and Machine Tooling Industry.
Free Oversize Freight Quote
"*" indicates required fields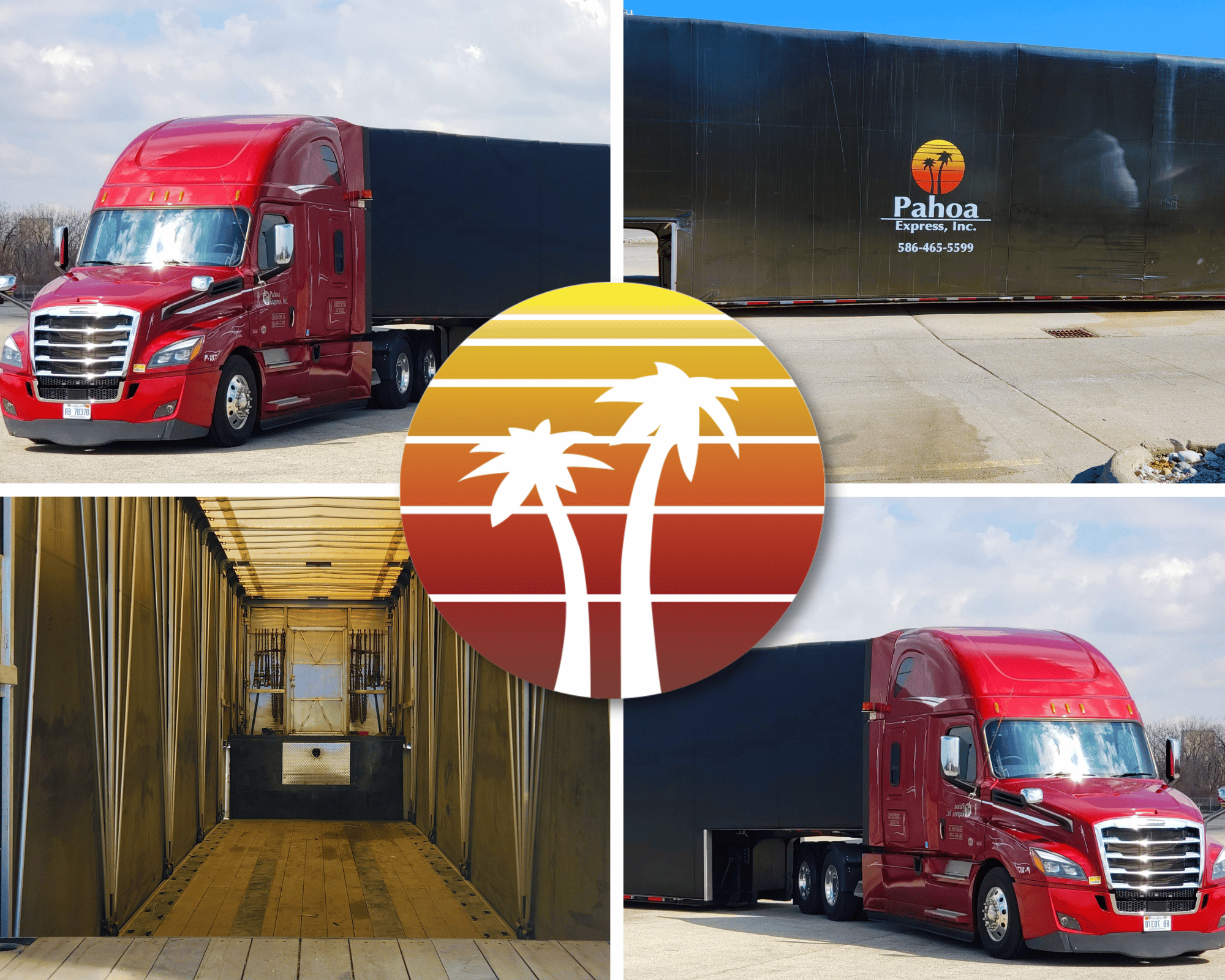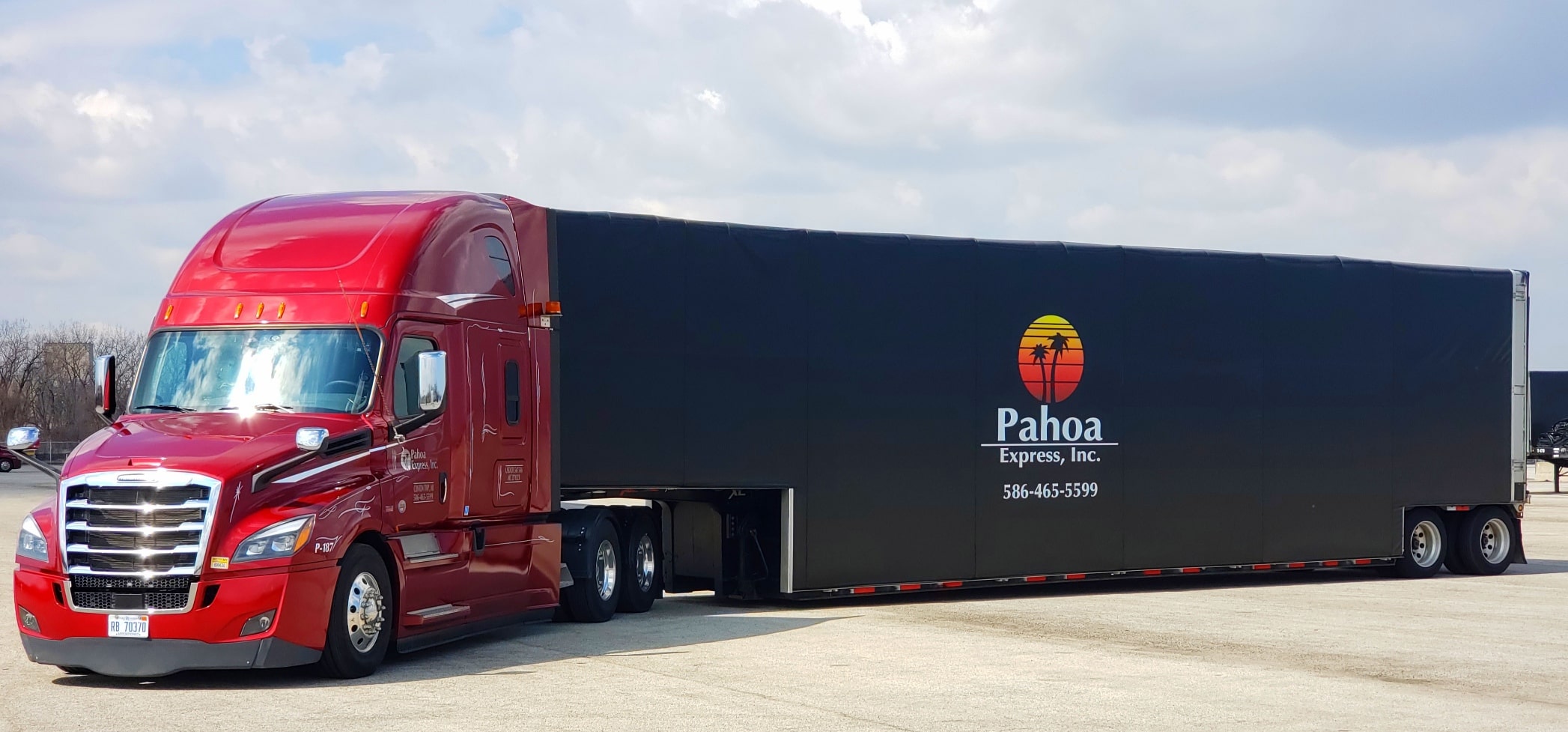 What Is Oversize Freight?
When a freight load exceeds defined limitations, it is referred to as oversize freight, oversize load, or heavy haul. Shipping oversize freight requires specialized logistics since special equipment and careful pre-planning are needed because oversize freight exceeds design clearances.
A lot goes into determining freight size and weight restrictions—definitions can range from individual carriers themselves, the road limitations such as an area's infrastructure, or state laws, amongst other factors.
Oversize Freight General Dimensions
Exceeds 8 ft. 6 in. (2.59 m) in width
Exceeds 13 ft. 6 in. (4.11 m) in height
34k to 80k; depends on number of axles
Some examples of oversize freight would be automation equipment, manufacturing equipment, boats, heavy equipment, machinery, generators, trusses, and the like. If you aren't certain what your freight qualifies as, we can help.
Real Reviews from Real People
One Of The Largest Fleets of Double Drop Conestogas
Pahoa Express, Inc. has the equipment and expertise to service your transportation requirements. Our fleet includes the following:
(6) 48′ Flatbed Curtainside
(3) 50′ Flatbed Curtainside
(26) 53′ Flatbed Curtainside
(6) 48′ Step Curtainside
(1) 48′ Step Curtain- 3 axles
(12) 53′ Step Curtainside
(2) 53′ Step Curtain- 3 axles
(9) 48′ Double Curtain – RGN
(11) 50′ Double Drop Curtain
(1) 53′ Double Drop Curtain
(1) 8-Axle Curtainside
(1) Wide Step Curtain 1 – 10'4" w
(5) 53′ Dry Van
(3) 48′ Open Flat
(1) 53′ Open Flat
(4) 48′ Open Step
(2) 53′ Open Step
(1) 48′ Open DD
(1) 48' Open DD Stretch
(1) 1–49' L Well
(3) Multi Axle RGN DD

48′ Double Drop
Legal Load Capacity for Open Trailer (48′) – 40,000# capacity
9'0″L x 8'6″W x 8'6″H on front deck
30'0″L x 8'6″W x 11'10″H on lower deck or well
9'0″L x 8'6″W x 10'0″H on rear deck
Legal Load Capacity for Curtainside Trailer (48′) – 35,000# capacity
9'0″L x 8'6″W x 8'0″H on front deck
30'0″L x 8'6″W x 11'7″H on lower deck or well
9'0″L x 8'6″W x 9'6″H on rear deck
50′ Double Drop
Legal Load Capacity for Open Trailer (50′) – 40,000# capacity
10'0″L x 8'6″W x 8'6″H on front deck
30'0″L x 8'6″W x 11'10″H on lower deck or well
10'0″L x 8'6″W x 10'0″H on rear deck
Legal Load Capacity for Curtainside Trailer (50′) – 35,000# capacity
10'0″L x 8'6″W x 8'0″H on front deck
30'0″L x 8'6″W x 11'7″H on lower deck or well
10'0″L x 8'6″W x 9'6″H on rear deck

48′ Step Deck
Legal Load Capacity for Open Trailer (48′) – 45,000# capacity
10'0″L x 8'6″W x 8'0″H on upper deck
38'0″L x 8'6″W x 10'0″H on lower deck
Legal Load Capacity for Curtainside Trailer (48′) – 44,000# capacity
10'0″L x 8'6″W x 8'H on upper deck
38'0″L x 8'6″W x 9'8″H on lower deck
53′ Step Deck
Legal Load Capacity for Open Trailer (53′) – 45,000# capacity
10'0″L x 8'6″W x 8'0″H on upper deck
43'0″L x 8'6″W x 10'0″H on lower deck
Legal Load Capacity for Curtainside Trailer (53′) – 44,000# capacity
10'0″L x 8'6″W x 8'0″H on upper deck
43'0″L x 8'6″W x 9'8″H on lower deck

48′ Flatbed
Legal Load Capacity for Open Trailer (48′) – 45,000# capacity
48'0″L x 8'6″W x 8'0″H
Legal Load Capacity for Curtainside Trailer (48′) – 44,000# capacity
48'0″L x 8'6″W x 8'0″H
53′ Flatbed
Legal Load Capacity for Open Trailer (53′) – 45,000# capacity
53'0″L x 8'6″W x 8'0″H
Legal Load Capacity for Curtainside Trailer (53′) – 44,000# capacity
53'0″L x 8'6″W x 8'0″H

24′ Flatbed
Legal Load Capacity for Curtainside Trailer (48′) – 24,000# capacity
24'0″L x 8'6″W x 8'0″H
26′ Flatbed
Legal Load Capacity for Curtainside Trailer (53′) – 24,000# capacity
26'0″L x 8'6″W x 8'0″H